Editors-in-Chief
Anne Sales, Department of Veterans Affairs and University of Michigan, USA
Dong (Roman) Xu, Southern Medical University, China
Editors' profiles
Three opportunities to boost implementation science at a critical time of need
In a recent blog, our Associate Editors Bev Holmes and Alison Hamilton discuss implementation science as a field of study, and explore three opportunities to push this field forward at a time of critical need.
Do you have an idea for an article collection? Let us know!
We love to hear what you want to see from Imp Sci Comms. If you have an idea for a future collection, let us know.
Submit an idea
Announcing the launch of In Review
Featured Editorial: a refreshed description of the journals' scope and expectations
This editorial describes the mission, scope, and expectations of Implementation Science and Implementation Science Communications and highlights some differences between the journals. We intend to support authors in their consideration on whether to submit to the journals, and hope we will continue to receive many high-quality submissions in the coming years.
Read More
Aims and scope
Implementation Science Communications, an official companion journal to Implementation Science, is a forum to publish research to foster the uptake of evidence based practices and policies that affect health care delivery and health outcomes in clinical, organizational, or policy contexts.
Implementation Science Communications is an inclusive, multidisciplinary publication for research on implementation intervention development, process evaluations, economic evaluations, and theory-based studies. A champion of open science and transparent peer review, the journal welcomes all studies across the implementation continuum – from planned implementation to evaluations of implementation efforts and natural experiments to planned de-implementation of practices without clear evidence of benefit.
Read more
Sign up to receive journal news
We encourage you to sign up to receive email alerts to keep up-to-date with the latest Implementation Science Communications articles and news by registering here.
Indexing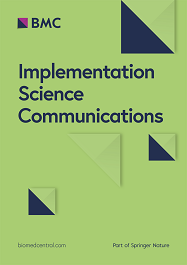 We're pleased to share the news that Implementation Science Communications, which launched in February 2020 as a companion journal to Implementation Science, has been accepted for inclusion in Scopus. It is already indexed in PubMed and PMC.
Our vision

We believe that the journal will provide a home for many of the more descriptive studies in the burgeoning field of implementation science. The journal will welcome research from a broad range of settings and encourage newcomers in the field, all while maintaining a continued focus on rigor and innovation that our readers expect.
-Anne Sales and Rebecca Armstrong, Founding Editors-in-Chief

Annual Journal Metrics
2022 Speed
15 days submission to first editorial decision for all manuscripts (Median)
148 days submission to accept (Median)
2022 Usage
427,166 downloads
3,629 Altmetric mentions
More about our metrics
Follow