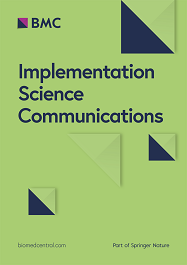 We are delighted to announce that Implementation Science Communications, a new companion journal to Implementation Science, is now accepting submissions.
Implementation Science Communications is an inclusive and multidisciplinary journal, welcoming studies on strategies across the implementation continuum – from planned implementation to evaluations of implementation efforts and natural experiments to planned de-implementation of practices without clear evidence of benefit.
Read more about the journal's launch and the aims and scope in the latest Implementation Science editorial here.